Does Spain have digital nomad visa?
Fancy living in Spain as a digital nomad? Well, we've good news. New Spain Digital Nomad Visa 2022 will enable you to move to Spain and stay there for up to seven years while working for international companies remotely or freelance.
More and more European countries are already launching flexible nomad visa frameworks to attract a new cohort of international talents into their economies. While countries like Georgia, Malta, and Greece have already implemented several programs to support such development, other countries are still at the initial stage of project development. However, from January 2023, the Spanish government will kick off the Spain Digital Nomad Visa 2022, enabling international freelance workers to live in Spain while working for non-Spanish companies.
What Should You Know About Spain Digital Nomad Visa 2023?
One perk of being a remote or freelance worker is that it allows you to work whenever and from wherever you want. So, why not take advantage of it and cherish the magnificent lure of Spanish culture, the tranquility of medieval-styled narrow streets, dazzling sunsets at flax-gold sandy beaches, and a myriad of mouthwatering Spanish cuisine? And if you add the favorable conditions Spain Digital Nomad Visa 2023 offers you, well, it's hard to say no to the opportunity of living in the European hotspot.
But first, let's figure out what Digital Nomad Visa Spain update is and how you could possibly use it next year.
According to the Spanish Government, the Spanish Digital Nomad Visa will be similar to a full employment visa with more benefits, flexibility, and lower taxes. It will authorize non-EU citizens to travel and stay in Spain for up to 12 months, with the possibility of extending it for one more year by obtaining residence authorization as a remote worker. Moreover, the latter can be extended further for five years, giving you a unique chance to enjoy the Spanish lifestyle and tax benefits for up to seven years.
By launching the Spain Digital Nomad Visa 2023, the Spanish government intends to extend the country's tech-talents pool and contribute to restoring the Covid-19-damaged Spanish Economy. And why not? Featuring high-speed internet, lower income taxes, and lower cost of living, alongside the tremendous Cultural and Historical heritages, Spain can be the next big thing among freelancers. Don't you think?
While many details are still confirmation subjects, one thing is clear. Any non-EU citizen working for non-Spanish international companies remotely or freelance, earning no less than €2,000, will qualify for Spain Digital Nomad Visa 2022, making it one of the best digital nomad visas in Europe.
Spain nomad visa requirements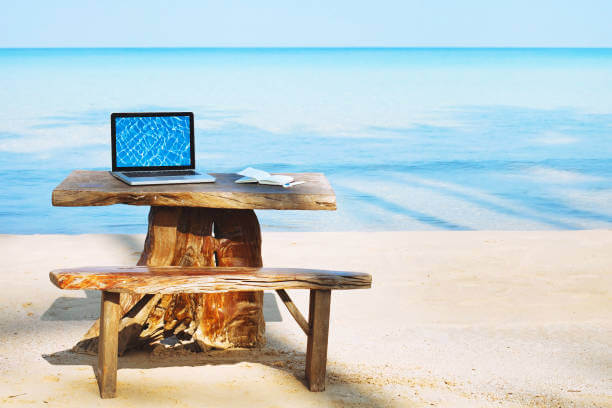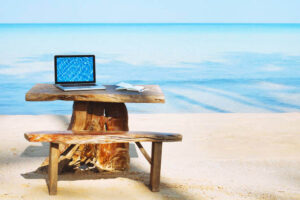 As mentioned already, the Spanish government hasn't announced many details just yet, but let's flick through what we already know about Spain Digital Nomad Visa requirements.
One of the primary requirements to apply for a visa is to be a national of non-EU/EEA countries. This way, Spain will prevent other EU country citizens from taking advantage of the lower digital nomad taxes on the one hand and will bring international expertise to their flourishing tech industry on the other.
Spain Nomad Visa requirements also limit the accessibility to the Spanish job market, meaning that any individual living in Spain as a digital nomad visa holder shouldn't have more than 20% of their income from Spanish companies. If you fail to meet this requirement, your digital nomad visa will be rectified, and you'll be obliged to obtain the traditional employment visa (Type D).
Additionally, you must verify that you've been working remotely or freelance for a non-Spanish company for at least a year before applying for the visa. For this, you'll need either a contract of employment or any other proof of regular employment, such as bank account statements.
An important detail is that you should have an address inside Spain before submitting your documents to your local Spanish embassy.
New Travel Regulations
Before visiting Spain, you should also take into consideration new travel regulations. European Travel Information and Authorisation System ETIAS is a new security measure of the EU, set to come into force from November 2023. The main goal of the system is to enhance EU's efficiency against external security and epidemiological threats by pre-screening visitors before their arrival.
Spain Nomad Visa Tax
This section contains all the necessary information about Spain digital nomad visa tax. Generally, non-residents in Spain pay 24% of their income in taxes, meaning that ¼ of their salary entirely goes to the Spanish Economy.
However, Spain Digital Nomad Visa 2022 will provide favorable tax breaks for visa holders, enabling you to pay only 15% of income tax for the first four years of your residence there, as long as your annual salary doesn't exceed €600,000.
As mentioned, any digital nomad planning to take advantage of the proposed visa framework will need to earn double Spain's minimum wage, which is €1,050. While it might sound too exorbitant, it's still less than what Spain's fellow Iberian neighbor, Portugal, requires to qualify for a digital nomad visa. In contrast to Spain, you'll need four times more than (€3,040) Portugal's minimum wage (€740) to be eligible for the Portuguese digital nomad visa.
Spain champions the race for affordability and the minimum requirement of monthly earnings among other EU/EEA countries that have also implemented similar frameworks. For example, as a digital nomad, you must earn €3,500 in Estonia, €2,700 in Malta, and €3,500 in Greece per month to qualify for the digital nomad visa.
Alternatives to Spain Digital Nomad Visa – Spain Entrepreneur Visa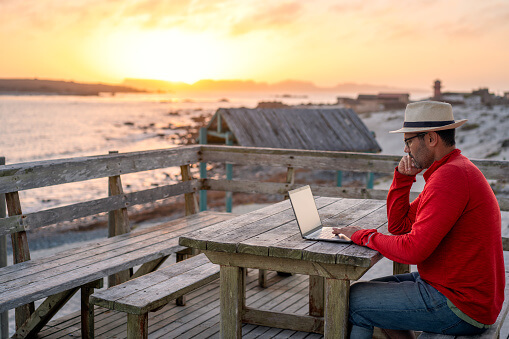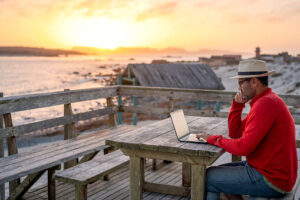 When it comes to bringing together world-class tech talents and entrepreneurs, Spain is pretty flexible. And it's not surprising that the country invests so much effort in these programs. Tech is the profession of the future. Besides, Spain unequivocally tries to ease off the business-making opportunities inside the country, as in 2017, it was named one of the most complicated countries in the world to start a business in.
If Digital Nomad Visa Spain 2022 is out of your reach, don't worry. Spain has another alternative for you, called the Entrepreneur Visa. It enables you to move to Spain for two years with your family (spouse, children below 18, and dependent children over 18) to start a business.
If your business proves successful while making a significant contribution to Spain's economy, you can extend your stay up to five years later. After five years, you'll be eligible to apply for permanent residency.
How Will Digital Nomad Visa Spain 2023 Affect the Spanish Lifestyle?
But the question is how will Digital Nomad Visa Spain 2023 affect the local lifestyle, including the standard or cost of living. Well, it's already apparent that major Spanish cities like Madrid, Valencia, Seville, or Barcelona are the emerging hotspots for EU-national digital nomads, who gradually move to Spain to benefit from the country's ultra-fast internet connectivity, low costs of living, and bustling cosmopolitanism.
Moreover, while Barcelona might be considered one of the best holiday destinations, it's crystal clear that it is moving in the STEM direction, making the city equally popular for tech talents and freelancers.
As mentioned above, from November 2023, the EU will launch new European Travel Information and Authorisation System (ETIAS) aimed at strengthening the Union's security against the external threats. You will have to fill our ETIAS application in order to obtain it. The new system will allow the law enforcement officers to pre-screen the travelers before they even step in at the airport.
Clearly, by enacting the Start-Up Act, the Spanish government intends to simplify the business-making process in Spain more easily. The government also wants to push down the endless bureaucratic mess by reducing the company registration time from 20 working days to one working day, much like the UK or the Netherlands.
Although, there are suspicions and fears among the local society that such liberal policies towards the digital nomads will increase the costs of living in Spain, something the population isn't pleased about. The main concern comes from the rent prices, with the main argument being that digital nomads, earning at least double that of an average Spanish citizen, will be able to pay more, resulting in skyrocketing prices.
Spain digital nomad visa 2022
One way or another, it's clear that by developing the digital nomad visa framework and giving worldwide tech talents an opportunity to reside in the country, Spain is pushing to be in the avant-garde of modern digital product development. This means only one thing. Freelancing and remote working are gaining more popularity, so if the idea of becoming a digital nomad has been stuck in your head for some time already. Well, now is the time. From January 2023, you'll be able to enjoy the dazzling sunsets of Costa Brava, or the enchanting snowy peaks of Sierra Nevada, while working remotely and enjoying the Spanish income tax breaks with Digital Nomad Visa Spain.